West Deerfield Township is again the recipient of a generous grant from the Healthcare Foundation of Highland Park (HFHP).The grant will help fund the Township's transportation program, Going Places, an appointment based service for Township residents who have mobility challenges that may prevent or restrict their ability to meet their health care needs. Trained drivers pick up riders and deliver them to their medical appointments and bring them back home safely afterward.
"The Township is so grateful to receive this generous grant. We are able to offer an important, in-demand service to our residents at very low cost because of this grant," said Township Supervisor Alyson M. Feiger. "Going Places is unique in the level of training and the professional back ground our drivers possess. They are retired firefighters, paramedics and geriatric specialists."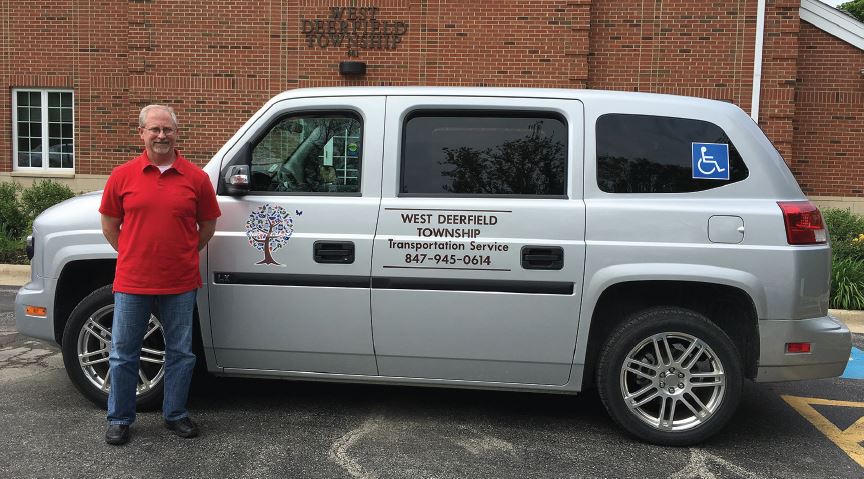 Supervisor Feiger notes that some riders have used the service since its inception in 2008, and appreciate that the original drivers are still on staff. "They develop wonderful bonds with one another over the course of their rides together," Feiger explained. "They become almost like extended family."
Feiger states that the Township's transportation van is equipped with ramps, extra room for spouses, loved ones or caregivers. "This is what local government is all about – offering real, hands-on assistance to residents.
The grant from the Healthcare Foundation of Highland Park makes a huge difference in allowing us to provide this service to those who really need it, at minimal cost to taxpayers."
The Healthcare Foundation of Highland Park, established in 2000 to support the healthcare mission of Highland Park Hospital, awards grants each year to organizations that respond directly to the needs of the underserved, aiming to facilitate the ability of agencies to provide programs for community's most vulnerable people.