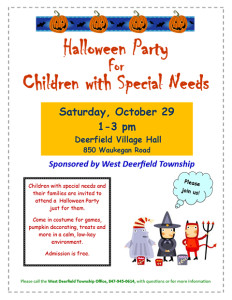 Come join us for our Special Party for Special Kids.
The West Deerfield Township is hosting a Halloween Party for children with special needs and Families with children who would enjoy a less stimulating, more relaxed Halloween Party are invited. It's an event designed just for them.
The event takes place Saturday, Oct. 29, 1-3 p.m. at Deerfield Village Hall, 850 Waukegan Road.
It's a drop-in party full of Halloween fun. Children, especially those with disabilities who may find traditional Halloween events overwhelming, may come in costume to participate in activities in a low-key, accommodating environment. Snacks, games and crafts, and plenty of pumpkins and treats will make this 6th annual Halloween party fun for the whole family. Admission to this event is free and siblings are welcome. Children of all ages are invited!
Please call Township Clerk Kristen Scott at 847-945-0614 if you have any questions.